"The mission of C. F. Vigor High School is to utilize effective instructional strategies in a setting that is conducive to learning in order to produce literate, ethical, and responsible citizens who will meet the challenges of the future."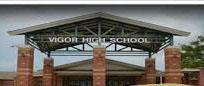 School Profile Sheet & Graduation Requirements
ACCREDITATION
The Alabama State Department of Education and the Southern Association of Secondary Schools and Colleges accredit Vigor High School.

LOCATION
Vigor High School is an inner-city public school located in Prichard, AL. Vigor was established in 1944. Vigor became a high school in 1951 with its first graduating class in 1952.

SCHOOL DATA
Vigor is a public school with approximately 850 students in grades nine through twelve. There are 60 full time faculty members. In 1984 Vigor received the Presidential Model School Award. In 1987, Vigor was one of fifty Outstanding Alabama. In 2008 and 2009 Vigor was named one of America's Best High Schools by USA News and World Report Magazine.

Advanced Diploma with Academic Endorsement:
Mathematics requirements include algebra 1, geometry and algebra II/trig.

Advanced Diploma with Honors:

English, social studies, mathematics and science must be HR/AP/Dual and GPA must 3.5 or higher

Note:

Students must pass all required sections of the Alabama High School Graduation Exam and complete required credits to qualify for a diploma.
| | | | |
| --- | --- | --- | --- |
| Diploma | Reg. | Adv. Academic | Adv. Honors |
| English | 4 | 4 | 4** |
| Social Studies | 4 | 4 | 4** |
| Mathematics | 4 | 4 | 4** |
| Science | 4 | 4 | 4** |
| Health | .5 | .5 | .5 |
| Physical Ed. | 1 | 1 | 1 |
| Fine Art | .5 | .5 | .5 |
| Computers | .5 | .5 | .5 |
| World Lang. | 0 | 2 | 2 |
| Electives | 9.5 | 7.5 | 7.5 |
| Total Units | 28 | 28 | 30 |
ADVANCED PLACEMENT
Vigor High School offers Advanced Placement classes to juniors and seniors. Pre-AP classes are offered for freshmen and sophomores.

DUAL ENROLLMENT
Vigor High School has a dual enrollment agreement with Bishop State Community College. Students with a final grade of "B" or higher in the dual enrollment class receive college credit.

COLLEGE ATTENDANCE
An average of 21% of Vigor's seniors attends four year colleges. Approximately 37% attend two year colleges.

TIME FRAME
The school day consists of five blocks each semester. Four blocks are 84 minutes long and the fifth block is 45 minutes long. All classes meet five days per week. A student may earn 4.5 Carnegie units each semester for a total of nine per year. Students participating in credit recovery or summer school may earn more than nine credits per year. College Entrance Examination Board Code for ACT/SAT is 012-235
| | | | |
| --- | --- | --- | --- |
| Scale | Regular | Honors | AP/Dual |
| 90-100/A | 4 Points | 5 Points | 5.5 Points |
| 80-89/B | 3 Points | 4 Points | 4.5 Points |
| 70-79/C | 2 Points | 3 Points | 3.5 Points |
| 60-69/D | 1 Point | 2 Points | 2.5 Points |
| 0-59/E | 0 Points | 0 Points | 0 Points |